In one word, they are not the same and Hefajot will always be well respected in a Bangladesh.
Because they does not want power but they will not be silent if any Govt. try to implement anti-Islamic state.
---
To:
From: manik195709@yahoo.com
Date: Thu, 4 Jul 2013 10:49:00 -0700
Subject: [chottala.com] The Fall of Morsy and a lesson for Jamaat & Hefajot !!!!
The Fall of Morsy and a lesson for Jamaat & Hefajot !!
When Muslim Brotherhood , a brother organization of Jamaat-e-Islam of Bangladesh , toppled dictator Husne Mubarak , millions of Egyptian along with their supporters in Bangladesh and elsewhere were dancing and cheering on the street . Even Khaleda Zia was threatening AL led govt. to face the consequences of Hosne Mubarak ! Now , we have witnessed with in a year the fall of so called popular Morsy ! Same millions did gather in Tahrir Square to protest the autocratic misrule of Brotherhood . The fall of Morsy proved that you can't run a Country with fanatic religious ideology only , other believers should be respected equally and it's a lesson for the religious fanatic groups in Bangladesh especially Jamaat-e-Islam and the so called Hefajot-e- Islam who have been trying hard to make so called Islamic revolution with gathering of millions in Shapla Square . Now , we hope the victory in four City Corporations will be short lived like "Muslim Brotherhood Victory" and the mass patriotic pro-liberation forces will be united in the coming elections to defeat the Muslim Brotherhood supporters in Bangladesh . Kindly read the CNN report on Fall of Morsy .
Joy Bangla , Joy Bangabandhu ,
Vice President , US Awami League .
Is pro-Morsy, opposition clash imminent?
The news of Morsy's downfall prompted further mass street demonstrations, with both his opponents and his supporters turning out to celebrate, or protest, his ouster.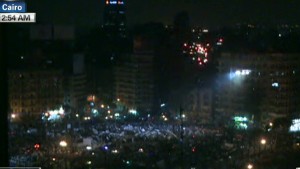 Egypt's military gives Morsy ultimatum
Morsy, who is backed by the
Muslim Brotherhood
, Egypt's oldest and best-organized political movement, insists he remains the country's legitimate leader.
As the deadline neared, he offered to form an interim coalition government to oversee parliamentary elections and revise the constitution that was enacted in January.
But Egypt's top military officer, Gen. Abdel-Fatah El-Sisi, said he "did not achieve the goals of the people" and had failed to meet the generals' demands that he share power with his opposition.
So where did it all go wrong?
A strict Islamist educated in southern California, Morsy was elected Egypt's president in June 2012 after a campaign focused on appealing to the broadest possible audience.
But critics say he became increasingly authoritarian and forced through a conservative agenda during his year in power.
He is also blamed for failing to revive Egypt's economy, which crashed when the 2011 uprising, which toppled longtime strongman
Hosni Mubarak
, drove tourists away.
That led many of his supporters among Egypt's poor and middle class to become disaffected, said Fawaz Gerges, director of the Middle East Center at the London School of Economics, speaking before Morsy fell.
"That some of the revolutionaries are calling on the army to return to politics is a testament to how polarized Egypt is a year after the election of Morsy," Gerges said. "Think of the millions of people who cheered Morsy after his election. Think of the millions of Egyptians who pinned their hopes on Morsy.
"A year later, now, the millions of Egyptians who cheered for Morsy are saying he must go."
__._,_.___
[* Moderator's Note - CHOTTALA is a non-profit, non-religious, non-political and non-discriminatory organization.

* Disclaimer: Any posting to the CHOTTALA are the opinion of the author. Authors of the messages to the CHOTTALA are responsible for the accuracy of their information and the conformance of their material with applicable copyright and other laws. Many people will read your post, and it will be archived for a very long time. The act of posting to the CHOTTALA indicates the subscriber's agreement to accept the adjudications of the moderator]

__,_._,___