All about Shahbag Movement: The New Sun Uplifts (Updated)
Dhaka, Priyo.com: Thousands of people gathered at a sit-in at Shahbagh in the capital for a week, opposing ICT-2 verdict of Jamaat leader Abdul Quader Mollah for war crimes.
The gathering started when the post by Bloggers and Online Activists Network (BOAN), requesting everyone to meet at Shahbag was highlighted in the facebook.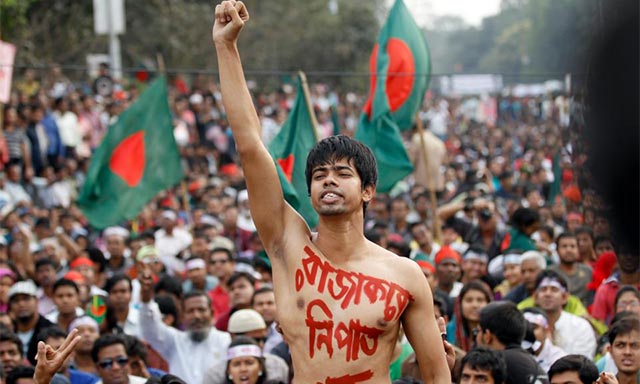 Sit-in people, that started on Tuesday (February 5, 2013) afternoon, demand capital punishment to the war criminal. Shahbagh intersection has gained the names such as "Nobo Juddho Square", "Prajanma Chattar" among people. People kept thronging in a large number there since Wednesday morning as per the declaration on the previous day to hold a rally.
The demonstrators chanted slogans all day long and chorused with several patriotic songs. People here and there sang, "Maago vabna keno,amra tomar shanti priyo shanto chele", and many other motivational songs.
A procession under the banner of Dhaka University Teachers and Students reached there at 10:30am to express solidarity with the demonstration.Mostly young generation, along with University teachers and students, journalists, cultural and political activists, mounted at the intersection.
Local people gradually participated in the movements days passed.
Earlier,International Crimes Tribunal-2 sentenced Quader Mollah to life term imprisonment which was unexpected to many as they were certain a death sentence for his crimes against humanity during the country's Liberation War in 1971.
Mollah, also known as Mirpurer Koshai, was proved guilty of committing genocide, murder and rape during the liberation war.
The protestors threatened to continue their programme until the demand is met, terming the current verdict unacceptable.
People from different professions including cultural activists, journalists and bloggers and severalfacebook groups joined the programme blocking the Shahbagh intersection in the city.
Day 1: 5 Feb 2013
On Tuesday, ICT-2 verdict's on the war crimes case against Jamaat leader Abdul Quader Mollah declared life imprisonment in two cases, 15 year jail in 3 cases and one case is not proven in six specific charges for his alleged involvement in murders and mass killings during the Liberation War in 1971.
The mass uproar at Shahbag started just a few hours of the verdict when an online activists' group, Blogger and Online Activists Network (BOAN), gave a call through online social networks to wage protests against the verdict.
Day 2: 6 Feb 2013
The protest resumed from Tuesday afternoon.The demonstrators painted streets, drew cartoons and hanged effigies of war crime suspects at Shahbagh with a vow to sustain their protest until their demand is met. Although Jamaat-e-islami called a dawn-to-dusk hartal Wednesday, the day passed leisurely with minute conflicts in the capital.
Day 3: 7 Feb 2013
The three-day mature mass sit-in began with a grand rally at the Shahbagh intersection Thursday. the place had been renamed to Prajanma Chattar. Several effigies of Quader Mollah were also burned near the Prajanma Manch. Demonstrators called for a similar grand rally nextday (Friday).
Day 4: 8 Feb 2013
The elated protesters from all race, religion and community on Friday demanded ban on Bangladesh Jamaat-e-Islami and Islami Chhatra Shibir. They also promised to boycott all the commercial establishments and social, cultural and other organizations, including media outlets, educational institutions and coaching centers of the Islamist party.
Convener of the Bloggers and Online Activists Network, Imran H Sarker conducted an oath at Shahbagh on Friday afternoon. Click the link below to read the oath.
Day 5: 9 Feb 2013
Although five days passed off (more than 100 hours), the protesters were seen as prompt as before. Government takes steps to go for a correction in the ICT law 1973,21 section-2. On Saturday, more organizations and individuals expressed solidarity with the demonstrators.
Day 6: 10 Feb 2013
Prime Minister Sheikh Hasina on Sunday's Parliament session appreciated the vigorous spirit of the youths. In her speech she assured that the demand of people has to be materialized, as they think the verdict is unfair.
Earlier in the noon, few players from National cricket team joined the stream of demonstration at Shabagh, which was led by Bangladesh Cricket Board President Nazmul Hasan (MP).
Day 7: 11 Feb 2013
The cabinet approved the proposal to amend Section 21 (2) of the International Crimes (Tribunals) Act, 1973, to ensure equal facilities for both the prosecution and the defence to appeal. Regarding the event ahead, the demonstrators requested everyone to dress in black for 'Pohela Falgun'.
Shahbag protesters called upon the countrymen to observe a three-minute silence from 4:00pm on Tuesday to press home their demand for death penalty for war criminals.
Day 8: 12 Feb 2013
It has been a week since protesters gathered to Shahbag demanding capital punishment for the war criminals. Shahbag protesters have called upon the countrymen to observe a three-minute silence from 4:00pm on Tuesday to press home their demand for death penalty for war criminals.
Shahbag protesters have declared a two-day programme including staging a countrywide candlelight vigil at 7:00pm Thursday in memory of the martyrs killed by Jamaat and Shibir during and after the Liberation War.
Day 9: 13 Feb 2013
Pohela Falgun celebrations are set to store by the protest at Shahbag. People have gathered in huge numbers to attend the Shahbag demonstration which is being held for eight days since the verdict of war criminal Abdul Quader Mollah.
Day 10: 14 Feb 2013
The country gets illuminated in the evening by millions of candles lit throughout Bangladesh to pay homage to the martyrs of 1971. The decision was announced a day earlier. Earlier, the parliamentary standing committee recommended the passage of a bill based upon changes to the International Crimes Tribunals (ICT) law to allow to appeal against verdicts in war crimes cases.
Day 11: 15 Feb 2013
Jamaat-Shibir clash with Police, leaves three Shibir activist dead in Cox' Bazar on Friday.
Jamaat-e-Islami called hartal for Monday, protesting the killing of its three activists in clashes with police in Cox's Bazar on Friday.
A young blogger, Ahmed Rajib Haider, was stabbed to death at Polashnagar in the city's Pallabi area on Friday night. Police said a group of 4-5 miscreants repeatedly stabbed the victim in front of their house at 56/3 Polashnagar at about 9pm as he returned from Shahbagh Square.
Day 12: 16 Feb 2013
The Namaj-e-zanaja of Blogger Ahmed Rajib Haider, aka 'Thaba Baba', was held at Shahbag projonmo chottor in the afternoon. Thousands wait to attend the Namaz-e-Janaza at the venue. Prime Minister Sheikh Hasina visited the relatives of the young blogger, Rajib Haidar, at his house in Pallabi in the capital in the afternoon, at 3:45pm.
Day 13: 17 Feb 2013
This morning the whole nation sang the national anthem and raised the national flag wholeheartedly to support the Shahbag movement. Blogger Ahmed Rajib Haider was laid to eternal rest at their family graveyard in Kapasia upazila of Gazipur after the fourth Namaz-e-janaza on Sunday.
Day 14: 18 Feb 2013
As the morning sun illuminates the whole country, Shahbag movement begins in new rhythm. Meanwhile the protesters raise their voices against war criminals in new spirit in fulfilment of its first and foremost demand -- amendment to the International Crimes Tribunal law.
While taking part in the Shahbag demonstration today afternoon, blogger Toriqul Islam Shantosuddenly had a cardiac arrest. He was transported to Bangabandhu Sheikh Mujib Medical Hospital, and there the doctors in duty declared him dead.
Day 15: 19 Feb 2013
Large processions are meeting at Shahbag Projonmo Chottor every now and then. Relentless slogans from the central 'Gonojagoron Moncho' demanding ban on fundamentalist Jamaat-e-Islami, avenging Rajib Haider's death and for execution of war criminals continued unabated.
Few announcements were made from Gonojagoron Moncho, including activities to be followed from 19th February till 21st February.
Day 16: 20 Feb 2013
The demonstrators, protesting for last 16 days for the capital punishment to the war criminals, tied letters with the balloons in memory of the martyrs before releasing it at around 4:13pm, the moment the Pakistani forces surrendered on December 16 in 1971.
Day 17: 21 Feb 2013
The non-stop protest that trembled the nation comes to an end at the seventeenth day, Thursday at Shahbag Square, after thousands participated the grand demonstration on International Mother Language Day.
Day 18: 22 Feb 2013
Issuing an ultimatum to the government to bring war crimes charges against Jamaat-e-Islami and initiate the legal process by March 26 to ban the party, the Shahbag protesters yesterday announced a series of countrywide programmes beginning today.
Day 19: 23 Feb 2013
Protesting against the countrywide violence, burning and tearing down of national flag and damaging Shaheed Minars in Dhaka and other districts, the Blogger and Online Activist Network began demonstrating all over the country since 7:00pm.
Day 20: 24 Feb 2013
The Shahbag movement is witnessing its twentieth day since its starting, the demonstrators emerged at the hotspot on sunday around 07.00 AM in the morning. Today's activity took off with the national anthem. Afterwards they led a massive anti-strike procession.
Day 21: 25 Feb 2013
The protesters demanding death penalty to all war criminals held a rally in Mirpur of the capital to press home their demand as the demonstration stepped into 21st straight day on Monday.
Day 22: 26 Feb 2013
The Shahbag youths submitted a memorandum to the home minister demanding immediate arrest of Amar Desh acting editor Mahmudur Rahman.
Day 23: 27 Feb 2013
The shahbag protesters are holding a massive rally at Shapla chottor in the city today. There, the proresters sang the national anthem and recited the verse of Holy Quran to begin their relentless slogans for capital punishments of the war criminals.
Day 24: 28 Feb 2013
Sayedee's verdict has been announced Today. The prosecution has proved him guilty against war crimes, and therefore admintered execution for his crime. Thousands of people on Wednesday was seen chanting slogans demanding execution to all convicted war criminals at Shapla Cahttar, Dhaka where no party other than Jamaat-e-Islami usually stages rally.
Day 25: 1 Mar 2013
Protesters gathered at the Gono Jagoron Moncho on the twenty fifth day, starting precisions with national anthem on Friday morning at Shahbag demanding ban of Bangladesh Jamaat-e-Islami from politics. Vibrant demonstrators chanted slogans all day, and people started to gather in mass after the Jumaah prayers as a rally will be held.
Day 26: 2 Mar 2013
Protesters gathered at the Gono Jagoron Moncho observed the national flag day on the twenty six day, starting precisions with national anthem and hoisting national flag on saturday morning at Shahbag. Demonstrators at Shahbag plan to stage an anti-hartal rally Sunday at 10.00am, from Projonmo Chottor, Imran H Sarkar, declared.
Day 27: 3 Mar 2013
Thousands of people of all class joined the anti-hartal rally in the morning at the Gono Jagoron Moncho on the twenty-seventh day of the Shahbag protest.
Day 28: 4 Mar 2013
Several hundred demonstrators at Shabag started a procession in the capital on Monday to protest the second consecutive day countrywide hartal called by Jamaat-e-Islami.
Day 29: 5 Mar 2013
Ganajagaran Mancha Rally began at Bibir Bagicha road in city's Jatrabari on Tuesday amid recitation from Holy Scriptures and rendering National Anthem.
Day 30: 6 Mar 2013
The sit-in that started on February 5, 2013 following the verdict of the alleged war criminals Abdul Quader Mollah, steps to a month with rallies,demonstrations, processions across the country centering Projonmo Chottor, Shahbag.
Day 31: 7 Mar 2013
The Shahbag protesters on Friday announced a weeklong fresh programme to press home their various demands. Imran H Saker, convener of Bloggers and Online Activists Network (BOAN), announced the progammes, beginning on Sunday, at the end of a prescheduled women's rally at the Ganojagaran Mancha in the city.
Day 31: 7 Mar 2013
After the cocktail blast near the Gono Jagoron Moncho on Women's Day, Dhaka Metropolitan Police (DMP) issued a 7-point directive in a bid to ensure security of Gonojagoron Chattar in city's Shahbagh area.
Popular Slogans
The people together chanted slogans everyday such as – "Tomar Amar Thikana,Padma,Meghna,Jamuna", "Fashi chai, Fashi Chai", "Shawdhin Banglai Razakarder Thai Nai", "Tui Rajakar", "Jamaat-e-Islam- Made in Pakistan", "Pakistaner Pretattha- Pakistan e Firey ja", "Quader Mollah -Nebo Tomar Kolla". "Fasi Hobe Banglay - Mati hobe Pakistan a".
Prajanma Chattar Bulletin
The Rise Of The New Horizone...
View more photos of Shahbagh demonstration
http://news.priyo.com/photo/politics/2013/02/07/67152.html


Related contents:
খালেদার বক্তব্যের প্রতিক্রিয়ায় গণজাগরণ মঞ্চ
'নষ্ট ছেলেরাই মুক্তিযুদ্ধের অসমাপ্ত অর্জন পুনরুদ্ধারে মাঠে নেমেছে'
প্রতি শুক্রবার শাহবাগে সমাবেশ
সকল যুদ্ধাপরাধীদের সর্বোচ্চ শাস্তি ফাসিসহ ছয় দফা দাবিতে গণজাগরণ মঞ্চ গতকাল ৪০ দিন পার করেছে।
http://ittefaq.com.bd/index.php?ref=MjBfMDNfMTZfMTNfMF8wXzNfMjY2NDA=
আশুলিয়ায় গণজাগরণ মঞ্চের সমাবেশে খালেদা জিয়ার উদ্দেশে বক্তারা
তরুণদের অপমান করবেন না
গোলাম মর্তুজা ও অরূপ রায়, আশুলিয়া থেকে | তারিখ: ১৬-০৩-২০১৩
আশুলিয়ায় গণজাগরণ মঞ্চের সমাবেশ
ইত্তেফাক রিপোর্ট
শাহবাগের তরুণদের নিয়ে খালেদার 'বিষোদ্গার'
__._,_.___