Till today, Jamaat-e-Islami (JI) continues to cause trouble in the region of Pakistan, aligning itself with extremist elements in al-Qaeda, the Taliban and many other violent factions. It even has its own militant wing, Hizb-ul-Mujahideen (HM), which has committed numerous terrorist attacks against civilians. The group's former militant wing, al-Badr, was involved in the 1971 Bangladesh massacre ( http://www.genocidebangladesh.org/?page_id=16) , which reportedly took the lives of thousands mostly unarmed citizens.
Like most Islamist groups in South Asia, JI likes to hold angry demonstrations, what it calls "political rallies." The events are usually aimed at least one of two entities, the sitting government of that particular JI locale (Pakistan, Bangladesh, India, etc.) and/or the United States.
On the Indian subcontinent abu'l a'la Mawdudi

(1903-1979) influenced by the Muslim Brotherhood's al-Banna, founded Jama'at-i Islami in 1941.

It aims for complete Islamic control via Jihad both military and personal.
It is the greatest tragedy in the 1,400-year history of Islam that a man, JI founder Maulana Abul Ala Maududi, opposed creation of Pakistan and

this Maulana Maududi also opposed creation of Bangladesh. He publicly abused the Founding father M.A. Jinnah, dubbing him as The Great Infidel (Kafir-e-Azam) instead of The Great Leader (Quaid-e-Azam). But when the country Pakistan came into existence, he tried to hijack it!
Here are some excerpts from the writings and statements of Maulana Maududi. It was compiled and published by the Pakistan People's Party-owned Urdu language newspaper, Musawat, on November 14, 1988.
A Baloch intellectual, Borhaan Arifee, has translated it into English, allowing The Terrorland to publish it.
What did Maulana Maududi say?
Quote 1: Founding of Pakistan and its birth is equal to a beast.
(Tarjuman Al-Quran, Volume 31, Page 59, Issued in 1947, Pakistan.)
Quote 2: Mohammad Ali Jinnah does not deserve to be a leader but should be put under trial as a traitor.
(Tarjuman Al-Quran, Volume 31, Page 63, Issued in 1947.)
Quote 3: There were three actors in the partition of India and Mohammad Ali Jinnah's acting was the worst failure among all.
(Tarjuman Al-Quran, Volume 31, Page 70, Issued in 1947.)
Quote 4: It is forbidden (religiously) to vote for the Muslim League (headed by Mr. Jinnah).
(Tarjuman Al-Quran, Volume 27, Page 27, Issued in Pathan Kot, his native Indian town.)
Quote 5: Mohammad Ali Jinnah is the founder of fools' paradise and a great sinner.
(Tarjuman Al-Quran, February 1946, Page 153.)
Quote 6: Pakistan is fools' paradise and Muslims' fiat government.
(Tarjuman Al-Quran, February 1946, Page 154.)
Quote 7: Pakistan is full of millions of thieves, looters, pillagers, rapists and most vicious people.
(Tarjuman Al-Quran, Volume 31, Page 59.)
Quote 8: Election campaign is a race of hunting dogs.
(Kotar, January 27, 1950.)
Quote 9: The Muslim League is an organization which is free of God's fear and ethical barriers that made our collective social environment, worst than a toilet.
(Jamait-e-Islami's Election Campaign paper, Page 16.)
Quote 10: Indian refugees are deserters and cowards who fought for a nationality but when the time for punishment came they fled.
(Statement by Maulana Maududi, published in daily Nawa-e-Waqt, August 29, 1947.)
Maulana Maududi was born in Hydarabad in 1321 (1903). He died in the United States and was buried in Pakistan in 1399 (1979). He began to earn his living as a journalist.
"The reason for the heresy of Mawdudi was that he learned religious information from the non-authority. He could not gain any skill in the Arabic sciences. He could not attain to the sohbat of real religious scholars. He was not successful in reading, writing or speaking English and Arabic. All the Arabic books that he edited were written in Urdu originally, later being translated into Arabic by Shaikh Masud 'Alim an-Nadwi and his disciple. Because the author was written as Mawdudi on their covers, the readers thought that Mawdudi wrote them in Arabic.
Maulana Maududi was also one of the active figures in the movement in declaring the Qadianis a separate religious group.
Maududi was actually placed in jail, and received the death sentence.
"Mawdudi is not a proper man of religion but a politician. He has a fluent style in the Urdu language, but the sins his books cause are much greater than their benefit. Their harm is much more. Their evils surpass their good effects. He tries to blemish as-Sahaba especially in his Urdu books. He defames 'Uthman (radi-Allahu 'anh), the Khalifat ar-rashid. He alters the terminology of Islam and blessed ayats. He insults at the Salaf as-Salihin. All his writings openly reveal his desire for position and fame.
With regard to 1971, the mass slaughter of innocent Bangladeshis was not the only important event concerning JI, 1971 was also the year that JI's American affiliate, the Islamic Circle of North America (ICNA), was founded.
As stated in a piece for ICNA's publication, The Message International, titled 'Beyond Malcolm: Muslim Leadership for the 21st Century,' "Using the organizational development methodology of [JI founder] Maulana Mawdudi and the Jamaat Al-Islami of Pakistan, which lays special emphasis on spiritual development, ICNA has developed a strong foundation."
From:
SyedAslam <Syed.Aslam3@gmail.com>
To:
Khobor <khabor@yahoogroups.com>; notun Bangladesh <notun_bangladesh@yahoogroups.com>; chottala@yahoogroups.com
Sent:
Sunday, February 24, 2013 2:08 PM
Subject:
[KHABOR] Ghulam Azam a Bangalee traitor: Prosecutor
Ghulam Azam a Bangalee traitor: Prosecutor
Sun, 24/02/2013 - 8:47pm | by Shahriar.Asif
Dhaka, Feb 24 (Priyo.com):
A prosecutor on Sunday identified accused
Ghulam Azam
, then ameer of
Jamaat-e-Islami
in occupied Bangladesh, as traitor since he had actively backed the Pakistan junta's scorched earth policy during the
1971 Liberation War
to create a 'bastard generation' on this soil.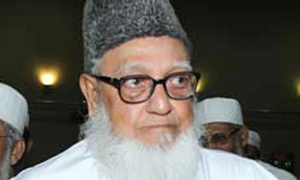 "Being a Bangalee, Ghulam Azam had wanted to efface the national identity of the Bangalee nation that emerged through the 1971 Liberation War," prosecutor Sultan Mahmud Simon told the
International Crimes Tribunal-1
while submitting his arguments for the fifth day.
In support of his contention, the prosecutor referred to a series of provocative statements and speeches through state-run radio at different times during the nine-month Liberation War.
Since Ghulam Azam, also an influential leader of junta-sponsored Peace Committee (collaborator), was a very trusted politician to the usurpers, his speeches evidently encouraged the occupation forces for carrying out their atrocities across the
country
, said the prosecutor.
He told the tribunal that Ghulam Azam, also the religious leader of Jamaat-e-Islami, easily became successful to provoke his party men and its vigilante groups like Razakar, Al Badr and Al Shams to collaborate occupation forces in carrying out the crimes against humanity using Islam and religious sentiments.
Referring to a venomous speech against the minority Hindu community made by Ghulam Azam at
Rajshahi
in July 1971, the prosecutor said the Jamaat leader had publicly declared Hindus as enemies saying that the Hindus cannot be friends of Muslims.
This
open
statement was the green signal for the occupation army and his auxiliary forces to carry out atrocities on them and forcing them to mass exodus to take refuge in India, the prosecutor added.
Referring to another inciting statement by Ghulam Azam in May 1971 at Baitul Mukarram Mosque, prosecutor Simon said the Jamaat leader had declared freedom fighters as enemies and urged all to fight against the enemies, terming the Liberation War cessation movement against Pakistan nationalism.
During the arguments, prosecutor Simon told the tribunal that according to evidence detained Ghulam Azam holding superior status used to inform Pakistan President Gen Yahyia Khan the latest war situation in occupied Bangladesh.
Besides, during the wartime he used to visit frequently the makeshift Razakar training hub at Mohammadpur Physical
Education College
, which was also used as torture cell of captured freedom loving people, added the prosecutor.
The arguments remain inconclusive.
http://news.priyo.com/2013/02/24/ghulam-azam-bangalee-traitor-prosecutor-67765.html
__._,_.___