Ghulam Azam a Bangalee traitor: Prosecutor
Sun, 24/02/2013 - 8:47pm | by Shahriar.Asif
Dhaka, Feb 24 (Priyo.com): A prosecutor on Sunday identified accused Ghulam Azam, then ameer of Jamaat-e-Islami in occupied Bangladesh, as traitor since he had actively backed the Pakistan junta's scorched earth policy during the 1971 Liberation War to create a 'bastard generation' on this soil.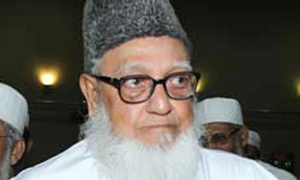 "Being a Bangalee, Ghulam Azam had wanted to efface the national identity of the Bangalee nation that emerged through the 1971 Liberation War," prosecutor Sultan Mahmud Simon told the International Crimes Tribunal-1while submitting his arguments for the fifth day.
In support of his contention, the prosecutor referred to a series of provocative statements and speeches through state-run radio at different times during the nine-month Liberation War.
Since Ghulam Azam, also an influential leader of junta-sponsored Peace Committee (collaborator), was a very trusted politician to the usurpers, his speeches evidently encouraged the occupation forces for carrying out their atrocities across the country, said the prosecutor.
He told the tribunal that Ghulam Azam, also the religious leader of Jamaat-e-Islami, easily became successful to provoke his party men and its vigilante groups like Razakar, Al Badr and Al Shams to collaborate occupation forces in carrying out the crimes against humanity using Islam and religious sentiments.
The prosecutor refuted the evidence of defence witness Brig Gen (dismissed) Abdullahil Amaan Azmi, son of the accused, who had boastfully depicted his father as a secular politician.
Referring to a venomous speech against the minority Hindu community made by Ghulam Azam at Rajshahi in July 1971, the prosecutor said the Jamaat leader had publicly declared Hindus as enemies saying that the Hindus cannot be friends of Muslims.
This open statement was the green signal for the occupation army and his auxiliary forces to carry out atrocities on them and forcing them to mass exodus to take refuge in India, the prosecutor added.
Referring to another inciting statement by Ghulam Azam in May 1971 at Baitul Mukarram Mosque, prosecutor Simon said the Jamaat leader had declared freedom fighters as enemies and urged all to fight against the enemies, terming the Liberation War cessation movement against Pakistan nationalism.
During the arguments, prosecutor Simon told the tribunal that according to evidence detained Ghulam Azam holding superior status used to inform Pakistan President Gen Yahyia Khan the latest war situation in occupied Bangladesh.
Besides, during the wartime he used to visit frequently the makeshift Razakar training hub at Mohammadpur Physical Education College, which was also used as torture cell of captured freedom loving people, added the prosecutor.
The arguments remain inconclusive.
http://news.priyo.com/2013/02/24/ghulam-azam-bangalee-traitor-prosecutor-67765.html
__._,_.___